Wood Floor Maintenance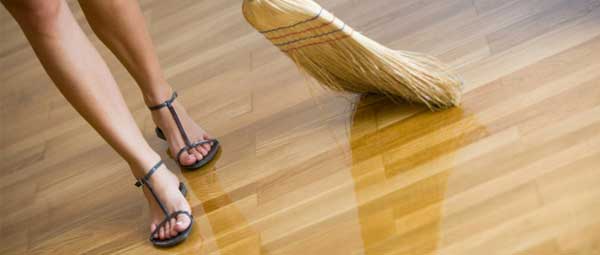 Day to Day
Day to day cleaning isn't much different from other floor coverings (carpet, tile, laminate, linoleum). If you have a vacuum cleaner that has a "hard floor" setting (which most all vacuum cleaners sold today have), you just need to run your vacuum on the hard floor setting to get rid of all dust, debris, dirt, etc. In fact, you'll soon experience how much easier pushing your vacuum on smooth wood floors is compared to thick carpet.
Every 2-3 Years
It is recommended that you have a professional inspect your wood floors every 2-3 years. If necessary, a screen and coat procedure may be needed. A screen and coat procedure involves a buffing of your floors with a professional Dirt Dragon, followed by a coat of finish on your floor. The goal of the screen and coat process is to prevent your floors from getting to the point of needing a full sanding and refinish.
Some customers prefer to simply wait until their floor is in need of the full sanding (on average, 7-12 years depending on the finish used), and maintain their floors that way.

Tips For A Long Lasting Hardwood Floor
Keep your floors free from dirt and debris by sweeping and vacuuming regularly.
Your hardwood flooring is part of the permanent structure of your home. Wood is susceptible to changes in temperatures and humidity. You may find as seasons change, your wood flooring will expand or contract depending on the humidity levels within your home. The humidity level within your home should be kept at 30-45% year around. Temperatures should be kept at 60-80°.
To allow your finish to cure, we recommend you do not place area rugs or throw rugs on your new flooring for at least two weeks.
Ongoing standing water can be damaging to wood. Floors with a urethane finish are resistant to the occasional spills of day-to-day living; however, special care must be taken to prevent water from "standing" on your hardwood floor. If water or other liquid spills on your floor, wipe the spill with a cloth or paper towel.
Use rugs anywhere potential problems may occur.
Install floor protectors on furniture legs to protect against scratches and dents. These furniture pads should have no wrinkles and be made of soft, nonstaining material.
Do not drag or roll furniture or other heavy objects across the floor. Roller from refrigerators, TVs, stereos, etc. will dent the floor. To prevent the denting, first lay 1/2 inch plywood onto the floor and roll the appliance or heavy furniture onto the plywood.
Avoid high heels or shoes with protruding nails. Some types of high heel shoes can severely damage the surface of any floor covering.
Avoid sand and grit buildup. Use protective mats or rugs at doorways and areas of heavy wear.